Is the original Die Hard a Christmas movie?
Well, that's the million dollar question of this multi-million dollar franchise. However, the powers that be at 20th Century Fox say it is and have a new trailer to prove it!
Calling it 'The Greatest Christmas Story Ever Told', the action movie has been reworked to look like a festive flick and we have to say, we kind of like it!
To celebrate the 30th anniversary of the beloved film starring Bruce Willis and the late Alan Rickman, the company has even released a new Christmas Edition DVD.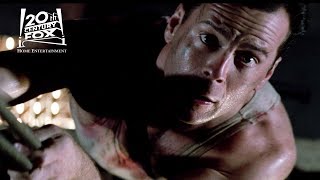 It comes with four exclusive holiday cards and, wait for it, a reworking of the poem, The Night Before Christmas:
'Twas the night before Christmas, at Nakatomi Plaza,
The office party was festive, but soon interrupted by drama.
Hans Gruber and his men, had forced their way in,
And taken everyone hostage, trapping them within.
But how could they know, there was a cop up above,
John McClane had arrived, to win back his wife's love.
He would take them all out, winning everyone's praise,
Welcoming Christmas Day, with his favorite catchphrase.
YIPPEE KI YAY!'
Die Hard — Christmas Edition,which includes all five films, is now available on Blu-ray, 4K and Digital.