When December rolls around each year, it can only mean one thing – you're going to have several Christmas parties to attend!
Whether you're with your colleagues, your pals or your family, they're always great craic and something you look forward to every year.
Here are six of our favourite things about Christmas parties:
1. The chance to wear sequins
Yes, you can wear sequins at other times of the year but it just doesn't feel right, does it?
Christmas is the time to shine so feel free to wear every sparkly thing in your wardrobe over the festive period!
2. The festive atmosphere
No matter what's going in everyone's lives, there's something about a Christmas party that puts everyone in great form.
Whether it's the music, the food or the knowledge that there's a week holidays around the corner, it really is the best time of the year!
3. Catching up with old friends
Most people tend to come home at some point over Christmas so this is the time to meet up with your friends that you haven't seen in a while!
Send out a message on your Whatsapp groups, Facebook page or Instagram account and let everyone know that you're free for a catchup.
4. The unlimited food and drink!
https://www.instagram.com/p/BrEBwcjnO_d/
More and more people are into baking now meaning that festive fare has never been more creative…or delicious!
It seems everyone's a chef and we're more than happy to indulge their Great British Bake Off aspirations!
5. The crazy dancing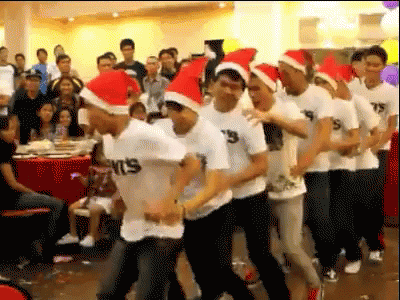 After a couple of hours, the Christmas hits really start to take effect and the dance floor is packed!
And the best part? The more naff your moves, the better the fun!
6. The festive fun and games
https://www.instagram.com/p/BrJXP36jG7Y/
Whether it's Scrabble, Speak Out, Pictionary or a good old-fashioned game of cards, you can't beat a few games on Christmas Day.
Just make sure things don't get too heated…after all, it's just a laugh at the end of the day!